Some folks will go years without seeing a doctor, decades without a hospital stay. Jeff Studzinski, wasn't so lucky.
A diabetic for more than 30 years, Jeff's focus on healthy eating and consistent exercise wasn't enough to prevent his kidneys from failing in 2004. "Even with great care and sugar control, the worst can happen." What he thought was a severe case of the flu landed him in the hospital, where he slipped into a coma. After regaining consciousness, he began dialysis three times a week.


Following two years of dialysis, he was physically and spiritually ready for a transplant. He was blown away by "an outpouring of family, loved ones, business associates and church friends who came up to me and told me they would give me one of their kidneys. To this day, I can never truly express my thanks." His daughter Monica turned out to be an exact match and on October 12, 2006, they checked into Northwestern Hospital. Jeff's life was saved.



More than a decade later, Jeff is still overwhelmed by the love that made Monica's gift possible. Each year, on his "kidney anniversary," he gives her a letter detailing the good he's been able to accomplish, the many ways he's been able to help others thanks to her sacrifice. "I will never be able to put the best words together to describe her….except heroic. I'm in awe of her. She's a daily reminder that a hero isn't someone who's out to save the world. Sometimes, they're just a person who saves the day."
His recovery progressed and Jeff put his commitment to sharing his gratitude and making the most of his new lease on life into action. He became a volunteer for Donate Life, the National Kidney Foundation, speaking out about the importance of organ donation, diabetes research and healthcare. He has also served on the Transplant Board for Northwestern Memorial Hospital.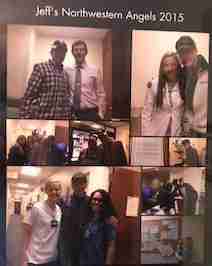 Then, lightning struck again. The immunosuppressant drugs that had been keeping his new kidney healthy – and him alive! – led to a diagnosis of Stage 4 Non-Hodgkin's Lymphoma. The heady joy of life with a new kidney was replaced by more trips to Northwestern; this time for aggressive chemotherapy as part of a clinical trial.
"Everything changed for me after that diagnosis. The best way I can describe it is that my life is now crystal clear, HD, 1080DP, 3-dimensional. I cherish everything. It was like putting on a new pair of glasses at the optometrist. I listen more intently. I find myself not shaking hands, but hugging. I'm moving through life more slowly, with more intention."
Jeff's upbeat attitude and gratitude for the love that surrounds him is palpable. But like many cancer patients, Jeff faced dark days. He chokes up when he recalls the agony of watching his wife and children fight alongside him, "It was a family fight. My family are literally my heroes – and when you're surrounded by your heroes, you don't want to show that you're in pain or suffering. I was praying for courage to smile and be kind."
It's a prayer that's been answered many times since his diagnosis. Now fully recovered, he knows there's a chance his lymphoma will return. But he's focused on spreading hope and kindness. "Whether the cancer comes back tomorrow or the next day, I want my kids to know I've helped a lot of people. Cancer was an opportunity to think about my legacy. When I was going through treatment, I wanted that legacy to be that I'd battled cancer with great integrity and compassion. That battle continues, but today I'm doing everything in my power to change the world in one place, to help people fighting cancer with everything they've got."


During his cancer recovery Jeff worked with his son Josh to launch a Facebook community that would share the faith that's sustained him and to share the hope that's been such a major part of his recovery. (Jeff's Facebook page: Jeff Studzinski: Cancer Hope Coach has over 10,000 followers!) It resonated with patients and caregivers across the globe and today, his online community reaches thousands each week and includes Miracle Mondays (a five-minute opportunity for people across the globe to pray together virtually each week) and Faithful Fridays, when members are encouraged to reach out and help someone else. It may be a call or a kind word – or even a casserole – but the focus is sharing what Jeff calls "the blessing of helping others."
"I'm excited to work with Cancer Hope Network to promote our mutual vision of hope. Kindness is always in season. Compassion is always in season. The kindness we do for others propels great hope."